The annual entertainment spectacle that is the MTV Music Awards took place on Sunday in LA. It was wonderful to see some beautiful curvy ladies lighting up the red carpet and stage – wish some even going so far as to make a comment about body positivity!
Funnygal Amy Schumer, who recently responded to criticism of her weight in the media by posting sexy topless pictures of herself, hosted the event. By my books, Amy isn't anywhere near plus size, but I do find it really heartening that someone with a relatable body type is in such a high-exposure position (pun intended 😛 ). Her little monochrome number isn't something I could see myself in, but I think she looks super sharp in it.
Another blonde comic also made waves on the night. Rebel Wilson looked pretty classy on the red carpet in a LBD and cape with a bold splash of pink. Not gonna lie, I think she rocked this look.
But it was when Rebel took to the stage to promote Pitch Perfect 2 that she really made an impact. Wearing a spangled bra, leather pants with 'Think' emblazoned across the butt, and giant feather wings, Wilson explained that her outfit was about embracing her shape. "I like to encourage girls to think, which is why I put that on my butt. It's really about what's up here [points to head], and not whats here [points to backside]," she said in the press room, according to Style News.
What do you think of this getup? Think she pulled her message off?
Kelly Osbourne, who has trimmed down a lot in recent years, was also present on the night. While I think her Alexander McQueen coat-dress is gorgeous, I really think she could have gone with something a little more exciting for such a high profile event. Not a huge fan of the pineapple hairdo either. (Awwww! I don't like saying mean things about people! :S).
I kind of love the quirky Judith Leiber rubber duck clutch she accessorized with though. 😀 I'm totally down with adding a touch of bizarre to otherwise 'pretty' outfits.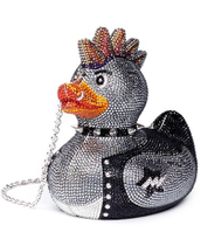 After her arrival, she went on to host in this monochrome summer dress. I'm much more in love with this look 🙂
Looks like black and pink was a hot combo for the plus size scene on the red carpet. Actress and comedienne Nicole Byer hosted the Red Carpet Report, a show airing all the lead up hype to the awards themselves. She was dressed in a LBD with neckline sparkle, and pink cardigan. Again, pretty un-glam for the red carpet. Hmmmmm….
By my count, it would appear that little monochrome numbers and black and pink colour blocking are the hot plus size red carpet fashion looks of the moment. Which were your favourite looks of the night?